Go to website
NENS Exchange grants -> FENS/IBRO-PERC fellowship
Rudolf Magnus Seminar Series 2023
The UMC Utrecht Brain Center and the PhD program Clinical and Experimental Neuroscience are very excited to announce the start of a new lecture series: the Rudolf Magnus Seminar Series! The Rudolf Magnus Seminar Series consists of monthly lectures that are focusing on neuroscientific and laboratory research. The goal is to create more in-depth knowledge on laboratory research (new developme
...
Read more
nts, techniques etc.) and improve collaboration. The series is aimed for laboratory researchers, but is open for all neuroscience researchers.

For every edition, an amazing keynote speaker will give an inspiring lecture. The program, compiled by a number of enthusiastic PhD students from the different laboratory departments, can be find below and in the attachment.

FIRST LECTURE: January 30 – 4-5pm – prof. dr. Pietro Fratta

Prof. dr. Pietro Fratta is an expert in the field of Motor Neuron Diseases with experience using iPSC-derived models, long-read RNA sequencing, and high-throughput bioinformatics. His talk is titled: 'Cryptic exons in ALS'.

More information will follow soon.

For the first lecture, there will be a festive opening including drinks!

So mark all the dates in your calendar and we are looking forward to see you there!

Kind regards,

The Rudolf Magnus Seminar Series committee

Oxana Garritsen, Dyan Ramekers, Myrna Brandt, Sara de Palma,

Esther van Leeuwen, Eileen Brouwer, Charlotte van Dijk, Maria Zwartkruis

Geert Ramakers, Marjolein Sneeboer and Elly Hol
CEN Sponsored visit to the 9th Congress of the European Academy of Paediatric Societies (by Corline Parmentier)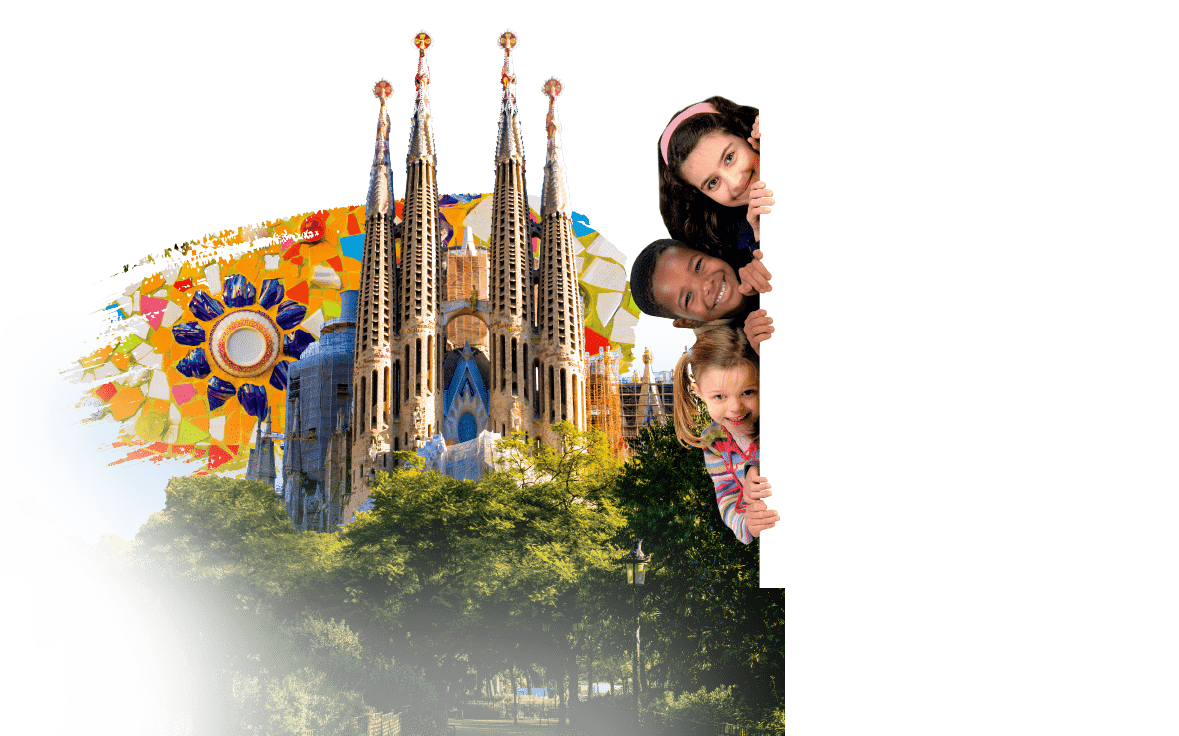 CEN Sponsored visit to the 9th Congress of the European Academy of Paediatric Societies (EAPS) in Barcelona, Spain In October 2022, I escaped from the Dutch autumn temperatures to attend my first international scientific congress in Barcelona, Spain. After conquering the security lines at Eindhoven Airport, I joined my 10 (!) colleagues to attend the 9th Congress of the European Academy of Paediatric Societies and present my work on
...
Read more
the additional value of repeat 3-month MRI in infants with neonatal encephalopathy following perinatal asphyxia. A conference all about pediatric and neonatal intensive care, which is not only valuable for my knowledge as a PhD student in Neonatology, but also for my work as a pediatric resident.

The broad scientific program allowed me to get an update on topics close to my research field (such as new candidate drugs for neonatal neuroprotection and machine learning to predict neonatal encephalopathy), as well as other topics within the field of neonatology and pediatrics. In addition to the main program, there was sufficient room to get in touch with other scientists and discuss my research during the poster sessions and social events.

Highlights for me included the great overview of adjunctive therapies for neonatal encephalopathy by Nicola Robertson (which will be of great help in the preparation of my PhD defense), the beautiful presentations in the young investigator award session, and the story of the revival of Anne Greene illustrating intensive care in the 17th century. But most of all I enjoyed the company of my research group, who gave beautiful (poster-)presentations during the congress, joined me in exploring the city, and made the Spanish tapas taste even better!
CEN Sponsored visit '2nd European Congress for Pediatric Physiotherapy' (by Christiaan Gmelig Meyling)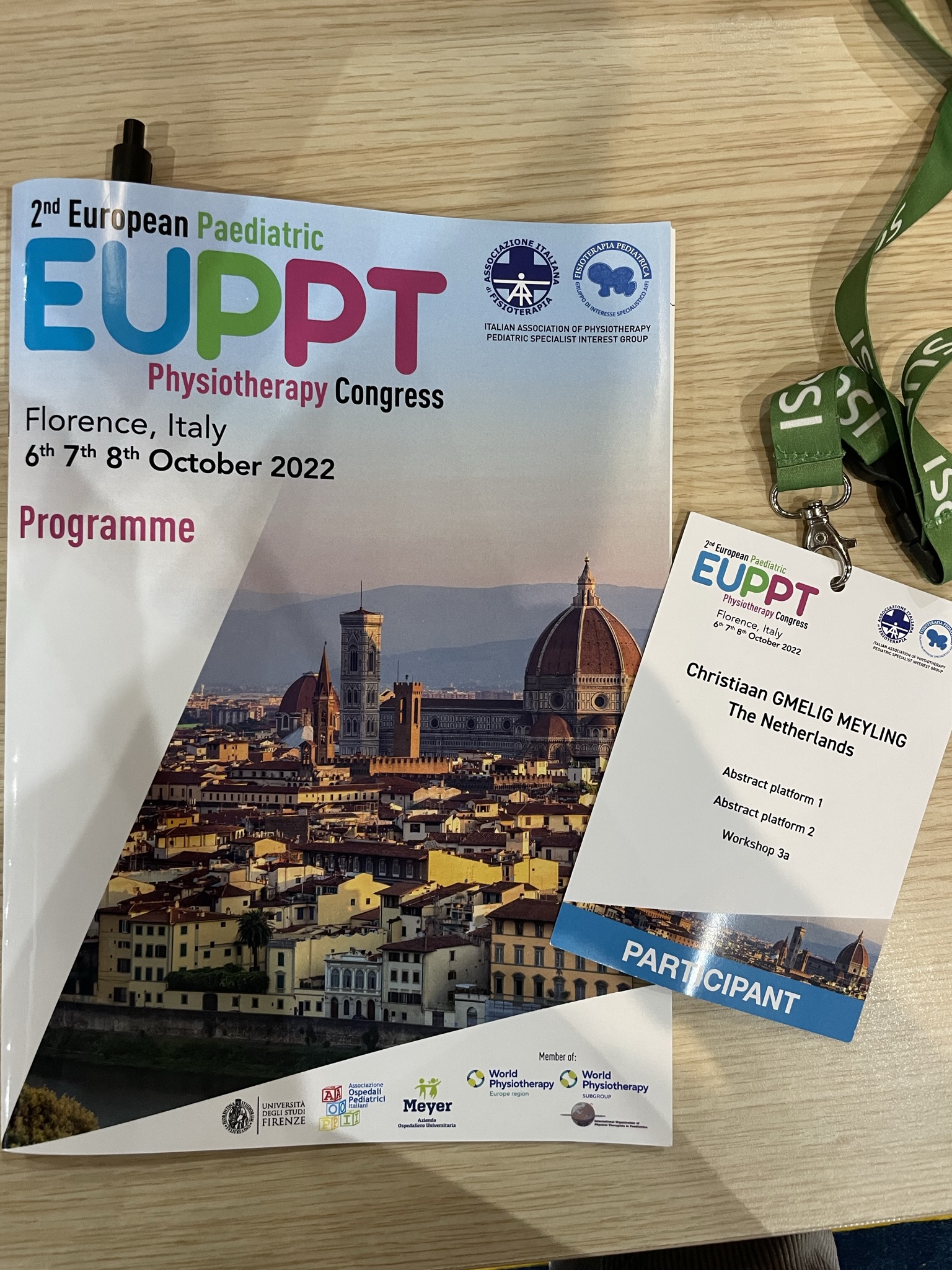 Summary 2nd European Congress for Pediatric Physiotherapy (EUPPT) 2022, 6-8 October 2022, Florence Italy Christiaan Gmelig Meyling, PhD-Candidate Center of Excellence in Rehabilitation Medicine, Utrecht. After a successful first edition of EUPPT in 2019, Utrecht, a second EUPPT was organized by the Pediatric Specialist Interest Group of the Italian Assoc
...
Read more
iation of Physiotherapy (AIFI) in Florence, Italy. More than 300 pediatric physiotherapists from >20 countries attended the conference! A great opportunity to connect with researchers, clinicians and other stakeholders about physical therapy interventions.

The EUPPT2022 consisted of several keynotes, workshops, focus groups, oral presentations and poster sessions. On the second day I had the opportunity to present an oral presentation in the "Rapid-8-session", entitled: Physical rehabilitation interventions in children and young people with acquired brain injury; towards the fundamentals of tailored, evidence-based practice. In this presentation, I presented an overview of the first three studies of my PhD-project including a scoping review, an international Delphi study and a qualitative study. Quite a challenge to present three research projects in only eight minutes! After the presentation session I have had several interesting discussions with researchers and clinicians about 1) the timing of rehabilitation after pediatric brain injury 2) determination of dose-response variables in physical rehabilitation and 3) the way physical interventions should be delivered. It was a nice experience to share my knowledge and experience as an expert, but on the other hand also being challenged to think outside the (or my) box for future research projects.

In addition, a meeting was organized to discuss the opportunities for an European Research Network for pediatric physiotherapists. It was really nice to experience the common drive to connect research in the field of pediatric physiotherapy with clinical practice, and to make knowledge available for all pediatric physiotherapists in Europe. Although the development of an European Research Network is in its infancy, the plans and ideas are promising for the future of pediatric physiotherapy in Europe. I'm looking forward to contribute to this important development.

For me, this congress was a great success and I have had a great time in Florence! I'm proud to have positioned my PhD-research at European level and to have strengthened my European network in this regard. And last but not least, I really enjoyed the friendship with my colleagues with a great glass of Italian wine!
CEN Sponsored visit to Cold Spring Harbor Meeting 'Mechanisms of Neuronal Connectivity'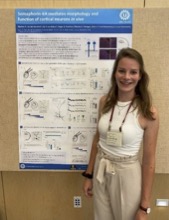 Marleen van den Munkhof CEN travel grant for Cold Spring Harbor Meeting 'Mechanisms of Neuronal Connectivity' 13-17 September 2022 In September 2022 I was able to visit my first international conference in Cold Spring Harbor, New York, USA together with a colleague from the lab. My PhD resea
...
Read more
rch focusses on axon guidance mechanisms in the developing brain, which fits perfectly with the topic of this meeting 'Mechanisms of Neuronal Connectivity'. We decided to travel to the USA a couple of days before the conference started, since Cold Spring Harbor is located just an hour away from New York city and of course we didn't want to miss out on that. We had a great time roaming around in the big city and visited many of the highlights, such as the WTC memorial, Central Park, the MoMA, Time Square, Ellis Island, and a Broadway theatre showon the last evening. Then we took the train to Cold Spring Harbor, and I have to admit that arriving there felt like a breath of fresh air – quite literarily since the smell of the New York subways isn't great to say it lightly. The campus of the CSH lab is really like no other because it almost resembles a holiday park. The labs are situated in cottage-like houses that are spread out in a foresty area next to a bay, and it might well be that there are more squirrelsthan people here. We were lucky enough to stay in one of the cabins on campus during the conference, which means that all the talks were just a five-minute walk away from our bed.

And then the science started! Luckily my jetlag was getting better, because the programme of this conference was set to fit as much science as possible in a couple of days. There were talks and keynote lectures from 9:00 to 17:00, followed by dinner and poster presentations from 19:30-22:30. Talks were organised in themed sessions, covering subjects such as axon and dendrite targeting, synapse development, circuit wiring, and axon regeneration and plasticity. The nice aspect of this conference is that not only the PI's are presenting, but also many graduate students and postdocs got the opportunity to talk about their research. All the talks were scheduled in one plenary auditorium, so there were no parallel sessions, and they lasted 15 minutes which is just right for your attention span. I was truly amazed and also impressed by the quality of these talks and the cool techniques that were described, such as the development of photoswitchable kinases that regulateendogenous protein activity and can be used to modulate spine formation and maturation.

Each day there was also one keynote speaker. In particular the keynote of Michael Greenberg, whose lab discovered Fos as a molecular marker of neuronal activity, stood out for me. Fos, or 'Faws' as Micheal pronounced it with his heavy Boston accent, is known to so many of us neuroscientists that you almost forget that there was ever a pre-Fos time. In this lecture he talked about how cell depolarization triggers the immediate early gene Fos and showed that this process is imperative for the reliable activity of the famous hippocampal place cells. Another keynote lecture was given by Alex Kolodkin, who described the first Semaphorin molecule as a respulsive guidance cue in the grasshopper embryo. Since then, dozens more Semaphorins have been discovered, one of which I am currently studying.

What is special about smaller conferences like this one - there were about 200 attendees this year – is that we all share a similar interest. This was also very noticeable during the poster sessions, which were very lively and full of discussions. At first I was a bit hesitant about three-hour long poster sessions in the late evening, but actually this was the most fun poster presentation I have ever done. I really enjoyed discussing my own work with so many people, but also many of the other posters were interesting and sometimes even useful for my own experiments.

However, during lunch and in the evenings there was also time to socialize. Since Cold Spring Harbor is located near the sea, as the name already implies, there is plenty of seafood. On the last evening it is therefore tradition to have cocktails and a lobster dinner, during which everyone is treated with a complete lobster and all the necessary lobster-eating tools, jumm… I have gotten quite competent with dissections over the years, but nonethelessdissecting the lobster turned out to be pretty difficult. After the lobsters were (attempted to be) eaten, the evening was closed off at the bar. After all, networking is important right! The next morning everyone got ready for the last few talks and after lunch the meeting was officially finished. For me it was obviously the first visit, but many of the PI's were telling me that they have been coming here every meeting since the first time it was organized in 1998 (meaning that they have been to 13 of these meetings!). It is a nice way for them to catch up with old friends, talk science and see where the field is going in a very accessible setting. People said goodbye, but I am sure most of them will see each other again in September 2024 for their 14th Mechanisms of Neuronal Connectivity Meeting.
CEN Sponsored visit Gordon Research Conference 'Intermediate Filaments' (by Werner Dykstra)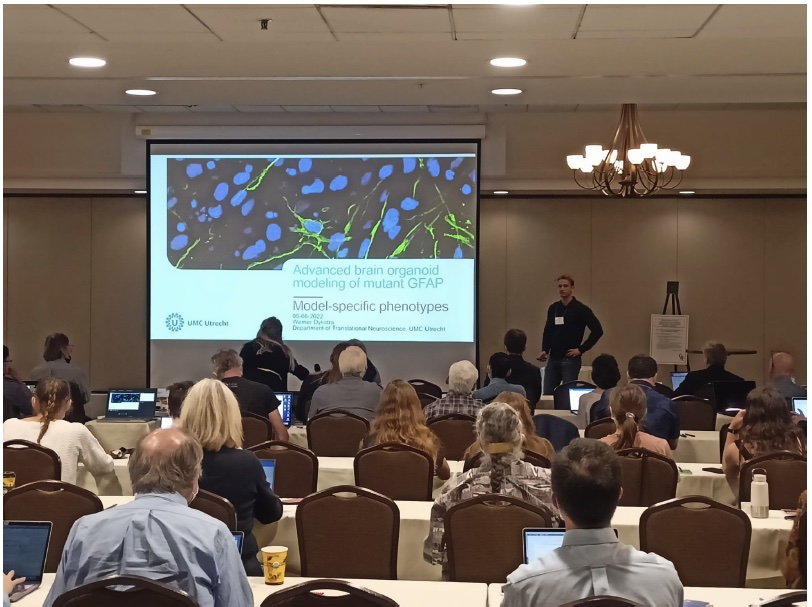 The attached document contains Werner's report (and a poem) on his visit to this Gordon Research Conference
CEN Sponsored visit 'New horizons in Alzheimer's Disease' Conference (by Marloes Verkerke)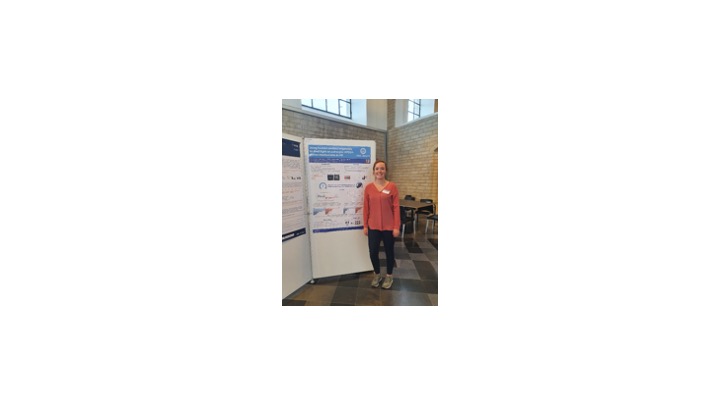 In October, I attended my first in-person conference abroad after the pandemic started. Together with two colleagues, I went to Leuven for the VIB conference "New horizons in Alzheimer's Disease". Because it was a hybrid meeting, the line-up of speakers contained all leading scientists from across the world and it was a broad range of subjects. On both days, I presented a poster on my work on Alzheimer's disease in cere
...
Read more
bral organoids. It was very nice to interact with people and discuss science face-to-face. In the evening, we had a keynote lecture of Roger Nitsch in the Kinepolis cinema. He is the CEO of the company that discovered the recently approved drug Aducanumab. It was interesting to hear this other side of Alzheimer research. Thanks to the CEN travel and education fund I was able to attend this conference and it were two very fun and inspiring days!
OPINION: Seizing balance and success during your PhD experience
Doing a PhD is a long, yet rewarding, expedition. Amid that journey, several decisions must be made to position yourself and stand out within a tough system as well as to align your personal goals and interests with those of supervisors, teams, and institutions. Many challenges will arise throughout that PhD journey and a degree of uneasiness and uncertainty will sometimes linger. In this opinion article, I put forth a personal and honest view
...
Read more
of how to seize balance and success during your PhD experience. I reflect on issues such as failure, planning, work-life balance, and personal drive. All in all, I highlight difficulties shared among all PhD students while discussing personalized strategies and coping mechanisms to deal with adversity. Taken together, this is a timely piece that aims to raise awareness about the problems affecting most PhD students and, in parallel, to inspire and empower fellow PhD students. Notably, this is also a call to the research community to be sensitive to these struggles and to foster practices that enable PhD students to live to their full potential.

KEYWORDS balance, PhD, success

1 | INTRODUCTION

As a young scientist, gradually becoming more mature, I have been realizing that too many of us today are forced to reckon with constant obstacles that hinder our path for success. In this time, I have met very few fellow PhD students who have not remotely considered neglecting a scientific career, especially in Academia. Too many are asked to prioritize work, to meet insane deadlines, or to follow crazy schedules. Several are compelled to be versatile at all times: better writers, better thinkers, better communicators, and better doers. Many of us are forced to juggle between endless hours in the lab and to generate new solutions to emerging, difficult scientific problems while coping with constant peer pressure, keeping track of novel research, and navigating through the process of finding what type of scientist we want to be.
Neuroscience School of Advanced Studies
The Neuroscience School of Advanced Studies is the home of Advanced Courses across areas of neuroscience, structured as study retreats with the world leaders. On the academic island of San Servolo in Venice, around its spectacular natural and architectural staging, you will work alongside the undisputed leaders, including Nobel Laureates:
...
Read more
the result is a profound experience that fosters professional and personal development.

In a proven, unique format you will be exposed to a high-impact learning experience, taking you outside the comfort zone of your own technical expertise, that will empower you with new analytical and strategic skills across areas of neuroscience.

You will achieve a heightened awareness for fields of neuroscience relevant for your activity and, perhaps most important, you will gain a place within an elite global network of neuroscientists.

The venue provides the perfect setting to a relaxed yet intense learning atmosphere, with the stunning backdrop of Venice: each Advanced Course is the experience of a lifetime.
Marian Joels awarded the ALBA-FKNE 2021 Diversity Award
Marian Joels (former director of our PhD program) received the ALBA-KNE 2021 Diversity Award for her for constant efforts in fostering gender equality in neuroscience.
Watch this movie to learn why Marian received this award
CEN Travel and Education Fund
The CEN program launched a travel and education fund for PhD students. This travel fund will provide scholarships of maximal € 1.000,- to attend international meetings, schools or cover the costs of a (online) course. Applications consist of a motivation by the applicant (including a description of the conference/school; max 1 A4), a budget plan and a recommendation letter by the (co)promotor. There will be two application possibilit
...
Read more
ies per year: one for meetings/schools in July – December, application deadline May 1st 23.59 and one for meetings in January – June, application deadline September 1st 23.59. Applications will be assessed and ranked by a committee representing the participating research groups in the CEN program. Applications should be sent before the deadline to Cen-secretariaat@umcutrecht.nl.